150 Million Pounds of Avocados from Peru are expected to be imported into the United States this summer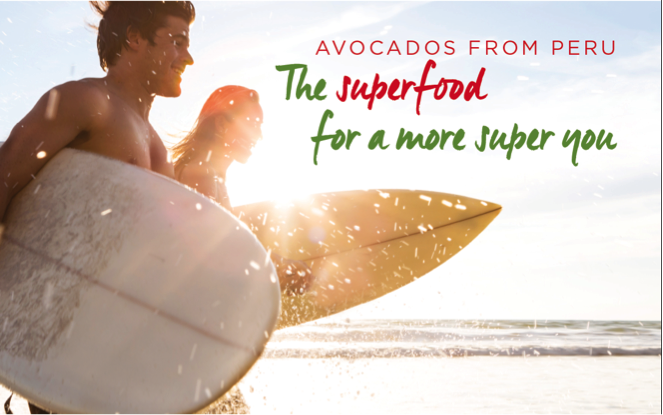 Washington D.C., June 1, 2017 — The Peruvian Avocado Commission (PAC) is gearing up for the most successful season to-date! Following the FDA's confirmation that avocados are a heart-healthy superfood, in May, Avocados from Peru received the healthy Heart-Check mark from the American Heart Association. With heart disease being a leading cause of death in both women and men in the U.S., the valuable Heart-Check mark has served as a trusted resource for consumers. By including the heart-check mark in AFP's marketing efforts it will help to promote the nutritional benefits of avocados, and to educate consumers about healthy dietary fats.
"As the new chairman of the Peruvian Avocado Commission, I am extremely pleased with the recent developments and positive focus on the nutrition attributes of Hass avocados. PAC has been a leading advocate for these measures and will continue paving the path during the new season within the health and beauty industry to showcase how avocados can benefit overall health and wellness for the body!" said Jose Antonio Castro, Chairman of PAC.
Starting in early June, PAC will deliver Summer fresh Avocados from Peru to retailers nationwide. Peruvian avocados have their peak season during the summer months and this year, over 150 million pounds of Peruvian avocados are projected to be imported into the United States from June to September.
"With avocados being America's favorite superfood, we expect the consumption of avocados to continue rising this summer, which is great because this is our largest crop to-date," said Xavier Equihua, CEO and President of PAC. "Our primary goal this season is to supply the U.S. with top-quality fruit during the peak summer season, and to educate the public about the wonderful health benefits of Peruvian Avocados."
In addition to showcasing the beneficial nutrients that occur naturally in Avocados from Peru, the commission plans to partner with other Peruvian superfoods like blueberries, quinoa and asparagus to create synergistic promotional campaigns.
Kicking-off the season with a splash, Avocados from Peru (AFP) will partner with Walmart stores to participate in their annual Wellness Day on Saturday, June 17. Over 800 stores will feature and demo a superfood rich avocado and blueberry smoothie, made with fresh Avocados from Peru, blueberries, banana, spinach leaves, almond milk and Greek yogurt. Walmart will continue to demo delicious AFP recipes throughout the summer including a refreshing avocado peach crostini. To help promote demo days and help drive store traffic, AFP has created a targeted Geo-Fencing mobile program that will activate within 5 miles around key stores.  Additionally, demos will also be taking place at Costco stores throughout the summer.
Also launching the summer season, AFP will run a promotion with CBS Radio and feature the Avo-Dog at the Baltimore Orioles stadium during 4th of July week. Fans can enjoy avocado themed food while cheering on their favorite team this summer.
AFP's 2017 robust marketing program introduces an experiential three-month long campaign that includes high-profile partnerships; increased trade and consumer advertising; an expanded menu of retailer support and incentive programs; and more opportunities to engage directly with consumers through social media initiatives.
TRADE SUPPORT
With increased marketing support and a large volume of fresh avocados imported from Peru, PAC is, once again, offering produce managers a greater variety of tools to merchandise the popular summer fruit.
Co-branded newspaper ads and bus wraps.
Bins with bold graphics featuring the signature AFP Machu Picchu brand image.
Funding for IRC's.
Funding for demos taking place during the summer including the week leading up to the important Fourth of July holiday.
New complimentary content for social media.
CONSUMER TACTICS
This year AFP is launching a strong consumer outreach program, highlights include:
In a first for the category, AFP will run retailer co-branded ads in Vogue, Vanity Fair and Women's Health, communicating that Avocados from Peru are a key part of a health and beauty regimen.
A re-launch of the digital AFP cookbook with mouth-watering recipes designed to promote delicious ways to enjoy avocados from Peru.
Radio spots throughout the summer in key cities, reminding consumers that
Avocados from Peru will add the certified heart-healthy check mark by the American Heart Association to all marketing elements.
Radio stations will run contests around Father's Day and July 4th asking listeners to send in their best Avocados from Peru summer picnic and grilling recipes, with the winners receiving AFP prize packages.
A continued partnership with AFP's Global Ambassadors. AFP will partner with leading chefs, the President of Peru, and Peruvian Trade Commission, including a co-sponsorship with PromPeru of an event at the National Museum of the American Indian in Washington DC.
Digital advertising featuring a series of videos highlighting Peru as "the land of superfoods".
Next installment of the collaboration with AFP's global ambassador Fooddeco, with new themed series' and recipes.
Consumers in select cities may also see buses wrapped as a larger-than-life full-color billboard featuring the picturesque landscape of Peru and of course, delicious Avocados from Peru.
All 2017 AFP marketing promotions will be supported by a strategic and engaging social media campaign. Facebook, Instagram, Pinterest and Twitter will provide the growing PAC fan base with inspirational reasons to select avocados from Peru including new recipes, photographs and opportunities to share cool avo-tips.  Additionally, AFP's evolving website, providing engaging and informative content along with AVOMAG, will be constantly updated to help keep avocados top of mind during season.
The exciting line-up for the 2017 initiatives, each complementing each other, will continue to strengthen AFP's position as the peak summer avocado for consumers and retailers across the country. To find more information about Avocados from Peru, or for heart-healthy Peruvian Avocado recipes, visit: www.avocadosfromperu.com, or click here to download a free copy of the Avocados from Peru Cookbook.
# # #
About the Peruvian Avocado Commission
The Peruvian Avocado Commission (PAC) is headquartered in Washington, D.C. It was established in 2011 to increase the consumption/demand for Avocados from Peru through advertising, retail promotion and public relations. The PAC's promotional activities are conducted under the guidelines of the Federal Promotion Program for Hass Avocados, which is under the oversight of the U.S. Department of Agriculture.
For more information about the PAC please visit www.avocadosfromperu.com or email [email protected].
https://avocadosfromperu.com/wp-content/uploads/2020/10/Avocados-from-peru-transparent-1.png
0
0
AFP-admin
https://avocadosfromperu.com/wp-content/uploads/2020/10/Avocados-from-peru-transparent-1.png
AFP-admin
2017-06-15 11:48:47
2020-10-15 12:13:20
The Heart-Healthy Summer Avocado Launches the 2017 Season with New and Innovative Marketing Tactics