Avocados From Peru closes its most successful season yet by supplying enough avocados to the U.S. market to help surpass 2016 distribution levels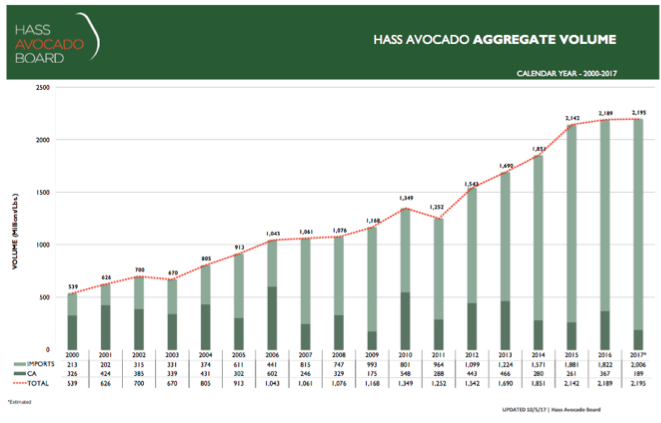 Washington, DC, October 9, 2017 –Due to this season's avocado shortage in the U.S., Avocados from Peru (AFP) shipped a record 145 million pounds of Peruvian avocados to the U.S. in an extremely condensed window of time during the summer months. Thanks to AFP, the U.S.'s demand for avocados this 2017 season was met and in turn, AFP experienced one of its most successful seasons.
"The shortage in the U.S. avocado market this past summer provided AFP the opportunity to maximize our distribution," said Jose Antonio Castro, AFP Chairman. "We were happy to meet the U.S.'s demand for avocados this season."
As America's favorite heart-healthy superfood, AFP boasts 20 essential vitamins and minerals, no sodium or cholesterol and are gluten free.
This season's marketing initiatives included strategic partnerships with many top retailers. "We saw great success this season by partnering with major retail stores like Costco, Walmart and Sam's Club," said Xavier Equihua, President & CEO of the Peruvian Avocado Commission. "Collectively we executed an unprecedented 6,000 Peruvian avocado demos at these large retail outlets between June and August this season. This initiative played a crucial role in reaching consumers nationwide."
Peruvian Avocado in Walmart's Wellness Day 2017:
AFP was selected by Walmart to be the first in the avocado category to be a part of its 2017 Wellness Day. Walmart's Wellness Day is considered to be the largest health fair in the world and is held on the same day in June every year in over 4,500 Walmart stores. AFP served thousands of Walmart shoppers its signature Avocado & Blueberry Smoothie on Wellness Day.
Highlights of the 2017 Season Include:
A kick-off July 4th event where APF treated baseball fans to a free topping of fresh Peruvian Avocado with the purchase of an Oriole dog during the Baltimore Orioles vs. Tampa Bay Rays game in Oriole Park at Camden Yards. The Avo-Dog is quickly becoming a baseball fan favorite!
AFP took over the bus wraps of several American cities including our nation's capital, Washington D.C.
A morning TV show segment on the top rated news broadcasting station in Baltimore, NBC's WBAL News Channel 11. The segment featured several summer Peruvian Avocado dishes prepared and presented by the chefs and global ambassadors for AFP, the Peruvian Brothers
AFP co-sponsored a festival at the Smithsonian's National Museum of the American Indian in Washington, D.C, along with the Embassy of Peru, titled "Kaypi Peru," ("This is Peru"), highlighting the South American nation's rich and diverse cultural heritage. AFP created unique dishes for the event including Peruvian avocado truffles, avocado oatmeal cookies, avocado and bison sliders, and a multi-flavored avocado gelateria.
AFP featured 'Fresh Summer Recipes' on the nationally syndicated morning TV show, "All About Summer" generating 2.5 million impressions nationwide.
AFP was pleased to participate in Apeel Sciences™ product trial earlier this year. Apeel Sciences™ develops plant-based technologies that protect crops and harvested produce. AFP supports their mission to eliminate food spoilage and reduce reliance on chemicals in the agriculture industry. The trial revealed that Apeel Sciences™ technologies add multiple days of additional marketable lifespan to Peruvian avocados.
AFP's 2017 End-of-Season meeting will be held in New Orleans, LA on October 19th, 2017 (one day prior to the PMA's Fresh Summit). The featured guests include Dr. James Rogers, Ph.D. from Apeel Sciences™ and Dr. Debasish Bandyopadhyay, Ph.D. from the University of Texas. Dr. Rogers will present his company's signature plant-based technologies that have been tested and proven to prolong avocado shelve life. Dr. Debasish Bandyopadhyay will present his scientific findings regarding avocado seed husk oil. His research shows that behenyl alcohol, an important ingredient used in anti-viral medications, heptacosane, which may inhibit the growth of tumor cells, and dodecanoic acid, which increases high density lipoprotein (known as HDL) are all present in avocado seed husk oil. As a result, avocado seed husk oil may reduce the risk of atherosclerosis and other diseases.
"We are thrilled that Dr. Bandyopadhyay will present before our association the findings of this important study," said Mr. Daniel Bustamante, AFP Marketing Committee Chairman & Director. "This groundbreaking study was first presented two months ago during the American Chemical Society (ACS) Annual Meeting. The ACS is the world's largest scientific society."
The marketing efforts of AFP reflect the organization's commitment to supplying the U.S. with top-quality fruit during the summer season. Peru has been named South America's Leading Culinary Destination by the World Travel Awards. AFP, Peru's most popular superfood, are looking forward to an exciting season ahead!
For additional photos of the 2017 Peruvian Avocado Commission season, please visit: https://avocadosfromperu.com/2017-season-recap/
# # #
ABOUT THE PERUVIAN AVOCADO COMMISSION
The Peruvian Avocado Commission (PAC) is headquartered in Washington, D.C. It was established in 2011 to increase the consumption/demand for Avocados from Peru through advertising, retail promotion and public relations. The PAC's promotional activities are conducted under the guidelines of the Federal Promotion Program for Hass Avocados, which is under the oversight of the U.S. Department of Agriculture.
For more information about the PAC please visit www.avocadosfromperu.com or email [email protected]
https://avocadosfromperu.com/wp-content/uploads/2020/10/Avocados-from-peru-transparent-1.png
0
0
AFP-admin
https://avocadosfromperu.com/wp-content/uploads/2020/10/Avocados-from-peru-transparent-1.png
AFP-admin
2017-10-23 11:43:47
2020-10-15 12:13:57
Peruvian Avocados Save The Summer Avocado Season