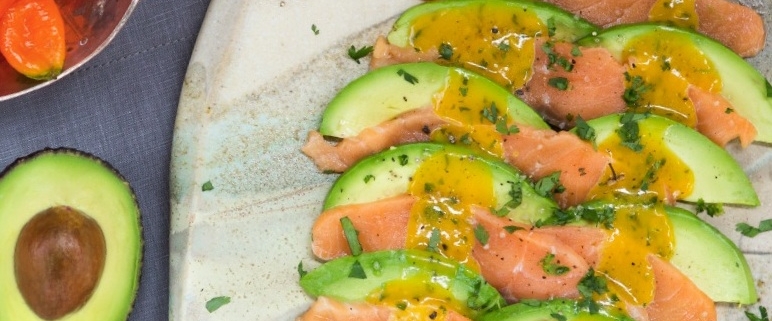 Salmon and Peruvian Avocado Tiradito
Instructions
In a small bowl, mix the lime juice, garlic, and cilantro. Season with salt and pepper to taste and set aside.
To blanch the chili peppers, fill a small pot with water and 1 teaspoon of salt. Bring to a boil, add the peppers, and boil for 5 minutes. Meanwhile, fill a medium bowl with ice water. Remove the peppers from the pot and place in the ice water for 2 minutes, then drain.
In a small skillet, heat the olive oil over medium heat and sauté the blanched chilies until they begin to brown, about 5 minutes. Transfer to a food processor and pulse to form a smooth paste. Add to the lime juice mixture.
On a serving platter, alternate slices of avocado and salmon. Drizzle with the lime-chili dressing. Allow 5 minutes for the flavors to blend, garnish with cilantro leaves, and serve.
https://avocadosfromperu.com/wp-content/uploads/2020/10/Salmon.jpg
596
772
AFP-admin
https://avocadosfromperu.com/wp-content/uploads/2020/10/Avocados-from-peru-transparent-1.png
AFP-admin
2020-10-15 23:04:51
2020-10-15 23:04:51
Salmon and Peruvian Avocado Tiradito