Avocados from Peru Rounds Out Season with Robust Recipe Collection
Washington D.C., September 30, 2014 — The end of the Avocados from Peru season is fast approaching, but the website will remain an active resource for folks who cannot resist the silky fruit from Peru. Visit Avocados from Peru's ever expanding and engaging website – www.avocadosfromperu.com – for a plethora of unique recipes that use avocados in new and delicious ways.
"Our recipes represent a sampling of flavors from around the world. Sourced from well-known chefs like Ricardo Zarate of Los Angeles, CA and Martin Morales of London, UK, to popular food bloggers and contest winners, our recipes reflect Americans' growing taste for fresh avocados and recipes that go above and beyond the tried and true guacamole," explained Xavier Equihua, Chief Executive Officer of the Peruvian Avocado Commission.
The recipes, located on PAC's uniquely designed website, visually burst before your eyes introducing visitors to a new taste experience. All who visit the website are able to view the recipes in a cookbook-style format, a feature novel to the avocado industry.
"We want consumers to know that avocados can be paired with just about any food and prepared a thousand different ways," continued Equihua. "Beautiful photography housed in an easy-to-use format make the recipes even more enticing."
The recipes featured are as varied as their sources and span all day parts, encouraging avocado lovers to incorporate the nutrient-dense fruit into their breakfast, lunch, dinner or afternoon snack.
Recipe Contest
PAC recently sponsored a month-long recipe contest on the James Beard award-winning website, Food 52. Avocado Sea Salt Shake was a favorite among the site's food-focused membership. This unique recipe features avocados in a totally new and delicious light.
Avocado Sea Salt Shake
Serves: 2
Ingredients:
– 1 1/2 small Hass avocados, or 1 large
– 1 tablespoon lemon or lime juice
– 1 cup coconut ice cream
– 3/4 to 1 cups milk (or coconut milk beverage)
– 1/4 to 1/2 teaspoon salt
– Simple syrup or agave to taste
Directions: 
1. Cut avocado(s) in half and remove the pit.
2. Scoop the meat into a blender.
3. Add the lemon juice, ice cream, milk, and salt.
4. Blend until smooth. Taste, add more salt or sweetener, and briefly blend.
5. Divide into 2 glasses, sprinkle with a tiny pinch of salt, place a straw in each glass, and serve.
Celebrity Chefs
One of the greatest features of PAC's website is its unique collection of recipes, which are amassed from a variety of sources. Award-winning Peruvian chef, Ricardo Zarate, owner of four restaurants in the greater Los Angeles area, Mo-Chica, Picca, Paiche, and Blue Tavern, has three recipes using the fruit from his homeland prominently featured on PAC's new website.
Chef Martin Morales is the owner of the popular restaurant Ceviche, located in London's chic SOHO neighborhood, and Andina, in London's city center. His Ensalada de Quinoa features thinly sliced avocados topped with a flavorful quinoa salad mixed with cilantro, limo chile, and diced tomatoes and onion. It's easy to make, delicious, and is certain to be bookmarked as a favorite.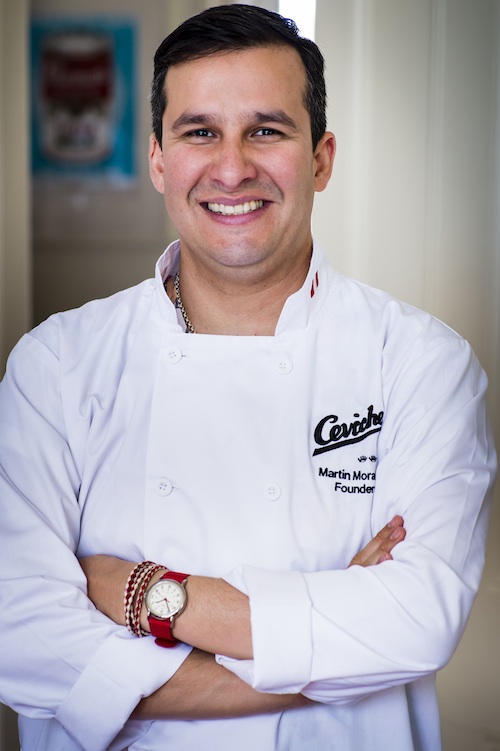 Peruvian chef Martin Morales, who owns two restaurants in London, Andina and Ceviche, adds Avocados from Peru to his menus as soon as the fruit is available.[/caption]
Bloggers
Popular blogger, Marla Meridith of Family Fresh Cooking, who boasts over 131,000 Facebook followers (and over 594,000 Pinterest followers), has been a champion of Avocados from Peru all summer long. Avocado recipes she created in her kitchen were prominently posted on all her social media sites and seen by hundreds of thousands of people actively looking for fresh, nutritious dishes to feed their families. In addition to creating recipes that nourish your body, she demonstrated a different use for avocados — a facial mask that nourishes your body from the outside!
Recipes
Other popular recipes featured on PAC's website include Chupe de Camarones, which is also one of the most "liked" recipes on the Avocados from Peru Facebook page. This hearty soup skillfully blends the distinct flavors of coconut and pumpkin with the textures of potatoes and corn to create a satisfying appetizer or filling lunch. Another gem is Gnocchi with Hass Avocado Pesto, an excellent choice for a Meatless Monday!
Visit the site often for new recipes, tips, and news of Avocados from Peru's arrival in 2015.
About the Peruvian Avocado Commission
The Peruvian Avocado Commission (PAC) is headquartered in Washington, D.C. It was established in 2011 to increase the consumption/demand for Avocados from Peru through advertising, retail promotion and public relations. The PAC's promotional activities are conducted under the guidelines of the Federal Promotion Program for Hass Avocados which is under the oversight of the U.S. Department of Agriculture.
For more information about the PAC please visit www.avocadosfromperu.com or email [email protected].
Contact:
Sue Kennedy
EvansHardy+Young
302.547.3625
https://avocadosfromperu.com/wp-content/uploads/2020/10/Avocados-from-peru-transparent-1.png
0
0
AFP-admin
https://avocadosfromperu.com/wp-content/uploads/2020/10/Avocados-from-peru-transparent-1.png
AFP-admin
2014-09-30 12:02:24
2020-10-15 12:19:47
Avocados from Peru Rounds Out Season with Robust Recipe Collection